World's Largest English Language News Service with Over 500 Articles Updated Daily
"The News You Need Today…For The World You'll Live In Tomorrow." 
What You Aren't Being Told About The World You Live In
How The "Conspiracy Theory" Label Was Conceived To Derail The Truth Movement
How Covert American Agents Infiltrate the Internet to Manipulate, Deceive and Destroy Reputations
March 1, 2022
West Forgot Putin Has Never Lost a War As It Blindly Leaps Into Catastrophe
By: Sorcha Faal, and as reported to her Western Subscribers
A discerning new Security Council (SC) report circulating in the Kremlin today first noting President Putin stressing to French President Emmanuel Macron during their phone conversation yesterday that a settlement of the "Special De-Nazification Operation" in Ukraine was possible "only if Russia's legitimate security interests were unconditionally taken into account", which includes "the recognition of Russian sovereignty over Crimea, the fulfillment of the tasks of demilitarizing and denazifying the Ukrainian state and ensuring its neutral status", says afterwards he spoke to top government officials telling them: "I invited you to discuss economic and financial issues, bearing in mind the sanctions that the so-called Western community — an empire of lies, as I called it in my address — is trying to implement against our country"—and was reference to the address made by President Putin last Thursday, wherein he stated: "All the US satellites not only dutifully agree, sing along to its music, but also copy its behavior, and enthusiastically accept the rules they are offered. Therefore, with good reason, we can confidently say that the entire so-called Western bloc, formed by the United States in its own image and likeness, all of it is an empire of lies".
In the latest legal opinion about the "Special De-Nazification Operation", this report notes, Director Heinz Dieterich of the Centre for Transition Sciences (CTS) at the Autonomous Metropolitan University in Mexico City, and coordinator at the World Advanced Research Project (WARP), stated: "President Putin's special military operation to defend the people of Donbass from an imminent general offensive by the neo-Nazi regime in Kiev not only is it fully justified in international law by Article 51 of the Charter of the United Nations, and it is fully consistent with the military praxis and doctrine of the legitimate self-defence of States in the face of an imminent threat emanating from a neighbouring state or enemy forces"—a factual legal finding followed with it being reported: "Moscow and Kiev have found certain things that could be agreed on during the ceasefire talks hosted by Belarus and will return for consultations before the next round, both delegations told reporters after the talks ended on Monday"—saw this report quickly joined by Russian UN Ambassador Vasily Nebenzia declaring to the United Nations General Assembly: "Occupation of Ukraine is not part of our plans…The purpose of this special operation is to protect people, who have been subjected to abuse and genocide by the Kiev regime for the past eight years…This is why it's necessary to demilitarize and de-nazify Ukraine"—and saw this declaration swiftly followed by the horrifying revelation that Ukrainian Nazi forces gunned down in cold blood Jewish-Israeli citizen Roman Brodsky as he tried to flee the war zone.
At the same time Jewish-Israeli citizen Brodsky's lifeless body lay riddled with bullets, this report continues, Ukrainian President Volodymyr Zelensky "urged the West to impose a no-fly zone over Ukraine" to protect his Nazi forces, then he "appealed for Western leaders to immediately include Ukraine as a member of the European Union"—is the same West that created the "master race" ideology used by German Nazi leader Adolph Hitler to wantonly kill tens-of-millions of peoples deemed vermin, and who admired the European and American leaders that carved up the world between themselves and subjugated to slavery those they branded "inferior swarms that have to die"—a demonic genocidal practice never engaged in by the Russian Empire, that didn't colonize any foreign land, and unlike the United States didn't have to fight a civil war to free its serfs from bondage in 1861—a demonic ideology President Zelensky further supported yesterday by releasing and arming dangerous convicted Ukrainian criminal rapists and murderers from prisons so they could join his Nazi forces—and was a shocking act quickly joined by Ukrainian parliament member Kira Rudik proclaiming:  "We not only fight for Ukraine…We fight for this New World Order".
To protect the genocidal Ukrainian Nazi Regime, this report details, yesterday French Finance Minister Bruno Le Maire vowed: "The European Union will wage a total economic and financial war against Russia"—a vow of total war immediately joined by leftist American tech giants Google and YouTube blocking from European Union citizens all Russian news channels to keep them from knowing true things—the European Union then closed its airspace to all Russian-owned, registered or controlled aircraft, but unlike the West, Russia will bring all of its trapped citizens home—today sees it being reported: "In just 72 hours, Europe overhauled its entire post-Cold War relationship with Russia"—a "relationship overhaul" one of whose immediate consequences of this morning saw Russia blocking foreign investments from leaving the country, which means giant European companies like Mercedes Benz and Volkswagen can't realize profits on their vehicles sold in Russia—but one of whose greatest consequences will be suffered by the citizens of the European Union, not their socialist leaders, who yesterday helplessly watched  as their already at record high natural gas heating bills soared another 35%.     
In yet another fit of unconstrained rage, this report notes, yesterday the socialist Biden Regime told all American citizens to leave Russia immediately—quickly after which the socialist Biden Regime deceitfully called 12 Russian diplomats at the United Nations spies and ordered them out of the country, to which Russian UN Ambassador Nebenzia replied: "The US authorities have undertaken another hostile action against the Russian mission to the United Nations, grossly violating the commitments of the host country agreement that they undertook"—then to further antagonize the Chinese government, yesterday the socialist Biden Regime sent a high-level military delegation to Taiwan, that China considers its sovereign territory.  
To the global clown show America has become, this report continues, it was put on further display yesterday, where it saw Supreme Socialist Leader Joe Biden appearing confused as to what was going on around him, then his wife Jill went to the podium and introduced Socialist Leader Kamala Harris as "the President of the United States"—when Socialist Leader Harris began speaking she first stated: "Because as we all know, elections matter///And when folks vote, they order what they want, and in this case, they got what they asked for"—is a debatable claim, because no one really believes that Americans "asked for" the disaster Biden's turned into, best evidenced by articles appearing today like "New Yorkers Lash Out At ConEdison Over Soaring Electricity Bills" and "Utility Bills Are Soaring In The Philly Region And So Is Customer Outrage-Peco Gas Bills Are Up 38% From Last Year"—is "lashing out" and "outrage" by Americans over their soaring energy bills soon to get much worse after Biden suddenly shut down the the Mediterranean natural gas pipeline project last week at the same time he has frozen all new oil and natural gas exploration in the United States.  
As one would expect in a tyrannically ruled over socialist state like America has become, and whose trade deficit just hit another record high, that will accelerate its already crushing inflation, this report details, it's now being heartbreakingly reported: "Matthew Perna, a non-violent Trump supporter who was arrested after January 6 committed suicide...He was never accused of violence or vandalism...His government targeted him and destroyed him anyway...In the end, it was too much"—sees this young American citizen being the 6th suicide amongst those arrested and criminally persecuted for entering the US Capitol building on 6 January 2021, which they believed they had a right to do because it's named "The People's House"—though in factual reality, it's now become a demonic citadel to unrestrained socialist power, as evidenced today by its being surrounded by miles of iron fencing and heavily armed National Guard troops—later this evening, in what has now been renamed "Fort Pelosi" it will see Socialist Leader Biden delivering a State of the Union address—but according to the leftist Washington Post in their just published article "Americans Think The State Of Our Union Is A Disaster", this address isn't needed, and as they reveal: "Most Americans don't think the state of our union is strong; they think Biden's first year has been disaster…Since he took office, we have experienced the worst inflation in 40 years; the worst crime wave in many cities since the 1990s; the worst border crisis in U.S. history; the worst foreign policy debacle in recent memory, in Afghanistan…The worst global health crisis in a century is still upending our lives…And we are witnessing the worst act of unprovoked aggression in Europe since World War II".
Security Council Members in this transcript noting the hyperbolic "unprovoked aggression" lying propaganda language used by the fake news leftist media, agree that its been specifically designed to create a false reality of what's really occurring—and because of keeps people from knowing the truth about this conflict, like the facts contained in the Ministry of Defense (MoD) daily urgent war bulletins, some of which today reveal truths and facts like:  
"The Minister of Defence of the Russian Federation, Army General Sergei Shoigu, has reported to Supreme Commander of the Armed Forces of the Russian Federation V.V. Putin that, in accordance with his order, the duty shifts of the command posts of the Strategic Missile Troops, the Northern and Pacific Fleets, and Long-Range Aviation Command have begun to carry out combat duty with reinforced personnel".
"Defense Ministry spokesman Igor Konashenkov stated:  The Kiev regime's ringleaders and their minions will be tracked down and inevitably and properly punished...All faces, voices, telephones, whereabouts, IP-addresses and messages among all Ukrainian Nazis, who are responsible for humiliation and torture of our comrades are being identified and put on record…The same concerns the ringleaders of the Kiev regime and their minions, who call for torture of Russian soldiers in violation of the prisoners-of-war treatment convention…All of you will be tracked down and inevitably and properly punished".
"A surrendered Ukrainian servicemen confirmed that Kiev planned a large-scale offensive in Donbass".
"The second round of talks between Russia and Ukraine will take place on 2 March"
"The Russian Military has informed the United Nations that it will provide needed humanitarian assistance to Ukrainians in territories freed from radical Nazi forces".
"More than 70 Ukrainian soldiers were killed after Russian artillery hit a military base in Okhtyrka, a city between Kharkiv and Kyiv, the head of the region wrote on Telegram".
"Russian Federation Chechen Leader Kadyrov reports 2 Chechens and died and 6 have been injured in Ukraine".
"Reports accusing Russia of using cluster and vacuum munitions in the conflict in Ukraine are false...Kremlin spokesman Dmitry Peskov said: Russian troops do not carry out any strikes on civilian infrastructure or residential complexes…This is out of the question…We are talking only about the demilitarization of Ukraine, about military facilities...It's worth remembering that in a large number of cases which you've mentioned, we're talking about attacks by the same nationalist units which use civilian objects as a human shield".
"A missile hit the square in front of a regional government building in Kharkov, Ukraine's second-largest city and former capital...It was calmly filmed by a Ukrainian, then posted on social media".
"About half a million refugees have fled Ukraine since last week, according to the United Nations refugee agency".
"Residents of the Ukrainian port city of Mariupol who want to leave the area due to ongoing hostilities in the region can use one of the humanitarian corridors established for them, Eduard Basurin, the spokesman for the militia force of the Donetsk People's Republic (DPR) announced".
"All 43 vehicles of the Organization for Security and Co-operation in Europe's Special Monitoring Mission (OSCE SMM) are leaving the territory of the Donetsk People's Republic (DPR)".
"Ukrainian Nazi forces seized some 20 OSCE cars in Kramatorsk, the staffer's fate remains unclear".
"Ukrainian Nazi forces shot civilians in Volnovakha, opening fire on residents with a white flag leaving the city".
"Russian troops in Ukraine are attacking only military targets, Kremlin spokesman Dmitry Peskov told journalists on Tuesday, commenting on the news that the International Criminal Court (ICC) in the Hague would launch a probe into possible war crimes in Ukraine".
In assessing the current conflict, this report notes, Chairman Fyodor Lukyanov of the Presidium of the Council on Foreign and Defense Policy, and research director of the Valdai International Discussion Club states: "The Russian operation is a mirror image of what the US and its allies have done more than once in recent decades in different parts of the world...Russia's military intervention in Ukraine has spelled the end of an epoch in the state of global affairs after President Vladimir Putin launched the action last week…Its impact will be felt for years to come, but Moscow has positioned itself to become an agent of cardinal change for the whole world"—on top of the 6 wars American lost before 1945, sees it factually observed: "Since 1945, the United States has very rarely achieved meaningful victory. The United States has fought five major wars — Korea, Vietnam, the Gulf War, Iraq, Afghanistan — and only the Gulf War in 1991 can really be classified as a clear success"—over the past two decades has seen Western powers fighting and still losing in Syria, Libya and Yemen, and threatening war against Russia, China, Iran and Venezuela—but today the West is facing the factual realties explained in articles like "Putin Has Never Lost a War. Here Is How He'll Win In Ukraine", wherein it reveals:
As the battle of wills and might between Russia and the west over the fate of Ukraine unfolds, there is one key fact to bear in mind: Vladimir Putin has never lost a war.
During past conflicts in Chechnya, Georgia, Syria and Crimea over his two decades in power, Putin succeeded by giving his armed forces clear, achievable military objectives that would allow him to declare victory, credibly, in the eyes of the Russian people and a wary, watching world.
His latest initiative in Ukraine is unlikely to be any different.
In an instant, Russian President Putin's invasion of Ukraine destroyed the post Cold War security order in Europe—one centered, to Russia's fury, by an often-expanding NATO alliance.
Analysts expect that, once Kyiv falls, the military aggression will give way to a political settlement that puts a Russia-friendly government in place.
A United States that thought it was pivoting to Asia, and focusing on China—a country that is its preeminent rival going forward—has now been dragged back to Eastern Europe, where for centuries so much blood has been spilled.
Putin now has the world's full, undivided attention, in the same way that every Secretary General in the Soviet era did.
In chilling televised remarks after the invasion had begun, Putin said, "Whoever tries to interfere in Ukraine should know that Russia's response will be immediate, and will lead to such consequences that you have never experienced in your history."
Putin's subsequent announcement that he was putting Russia's nuclear forces on alert, underscored the threat.
Russia is now back in the limelight, a nation that is demonstrating, with a display of military might, that it remains a Great Power.
Security Council Members in the conclusion section of this transcript note that the leftist American fake news media is now pumping out war propaganda articles like "Putin Is Unhinged And Has His Finger Un The Nuclear Button" and "Putin Wants To Restore Soviet Union"—is leftist war propaganda standing opposed to Senior Adviser François Heisbourg at the International Institute for Strategic Studies warning CNN foreign affairs journalist Christiane Amanpour "Putin does not play the bluffing game, his nuclear threat should be treated seriously" and President Putin having declared years ago: "Whoever does not miss the Soviet Union has no heart…Whoever wants it back has no brain"—is leftist war propaganda also standing opposed to the New York Times Magazine, who, in their 19 March 2000 cover story article "The Logic Of Vladimir Putin" said that the KGB of the seventies that Putin joined was no longer really a murder factory but just another "thinking corporation", then they compared him once to Russia's first true Western-looking leader: "In him, Russia has found a humane version of Peter the Great, a ruler who will open the country to the influence of a world at once gentler and more dynamic than Russia has ever been"—in actual truth sees President Putin being the exact same person and leader he's always been, who puts Russia and its citizens above all else—and to explain how President Putin went from being a "gentler dynamic" leader to "unhinged" in the span of two decades, today sees it best explained by top American foreign policy expert Tanner Greer, who in his just published astonishing scholarly document titled "Pausing At The Precipice" beyond shockingly reveals that the leaders in the United States mindlessly push their country into needless wars using "value rationality" instead of the "logic of consequences", which means they march in lockstep to whatever "they feel at the moment is right", instead of them "weighing their decisions against the consequence of their actions"—because their decisions are "based on feelings instead of facts", it sees them have to constantly "create new facts to match their feelings", as best exampled in their "made up facts" that Iraq had weapons of mass destruction and President Putin is an unhinged madman out to recreate the Soviet Union—and is why Greer warns:
We approach the fifth dawn of a fast-moving war; decision makers are determined to respond to an event which has not yet concluded.
This rush to act while action is still possible means that all slow paced proceduralism will of necessity be suspended.
In the days to come those in high places will be forced to rely on snap judgements and emotional response to guide their decisions.
Have we balanced the strategic effects of removing the Russians from SWIFT from the likely creation of a parallel SWIFT system that we have less leverage over?
How would America have responded if the Russians had been openly, brazenly arming insurgents in Iraq and Afghanistan?
This sort of thing is not unprecedented in the history of Russian-American relations… but it has consequences.
What do we think the Russian response might be?
The logic of the imperative has led the West into disaster before.  We must be vigilant lest we blindly leap into catastrophe once again.
[Note: Some words and/or phrases appearing in quotes in this report are English language approximations of Russian words/phrases having no exact counterpart.]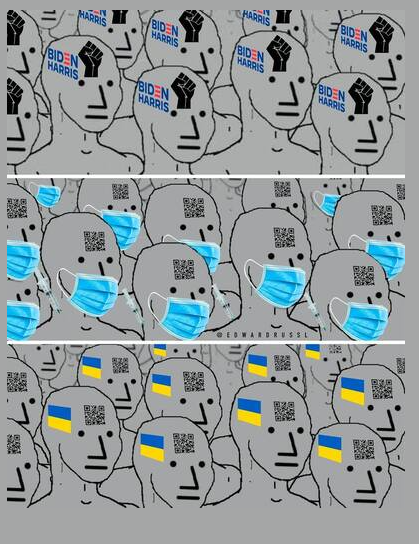 March 1, 2022 © EU and US all rights reserved. Permission to use this report in its entirety is granted under the condition it is linked to its original source at WhatDoesItMean.Com. Freebase content licensed under CC-BY and GFDL.
[Note: Many governments and their intelligence services actively campaign against the information found in these reports so as not to alarm their citizens about the many catastrophic Earth changes and events to come, a stance that the Sisters of Sorcha Faal strongly disagree with in believing that it is every human being's right to know the truth. Due to our mission's conflicts with that of those governments, the responses of their 'agents' has been a longstanding misinformation/misdirection campaign designed to discredit us, and others like us, that is exampled in numerous places, including HERE.]
[Note: The WhatDoesItMean.com website was created for and donated to the Sisters of Sorcha Faal in 2003 by a small group of American computer experts led by the late global technology guru Wayne Green (1922-2013) to counter the propaganda being used by the West to promote their illegal 2003 invasion of Iraq.]
[Note: The word Kremlin (fortress inside a city) as used in this report refers to Russian citadels, including in Moscow, having cathedrals wherein female Schema monks (Orthodox nuns) reside, many of whom are devoted to the mission of the Sisters of Sorcha Faal.]
Putin Begins Slavic Revenge Against Nazis With "Constructive Destruction" Doctrine
Historic Attack On Christianity Propels Russia To War—Not Ukraine
-