World's Largest English Language News Service with Over 500 Articles Updated Daily
"The News You Need Today…For The World You'll Live In Tomorrow." 
Note: This is an urgent private letter intended for the sole and exclusive use of the patron/donors to the Sisters of Sorcha Faal.
24 August 2023
Feared By Demonic Socialists "Apostle Of Pay Back" Leaders Stand Astride World
Hello Folks,
No matter what the lying leftist Western media tries to force feed into your minds, the most historic and consequential news for the entire world today is: "Argentina, Egypt, Ethiopia, Iran, Saudi Arabia, and the United Arab Emirates are joining the BRICS group of nations...The six newcomers will become full-fledged members starting January 2024...The club currently consists of Brazil, Russia, India, China, and South Africa".
This historic news marking an irreversible teutonic shift in the global powers balance away from the West is being overshadowed by the extraordinary events in Russia that began on Monday, which was when President Putin relieved General Sergei Surovikin of his command of the Russian Aerospace Forces—and it's critical to remember that Wagner Group private military company head Yevgeny Prigozhin publically praised General Surovikin during his short-lived mutiny in June.
With General Surovikin relieved of his command over Russian air defense systems, it was no surprise to hear that 24 hours later a private plane carrying Wagner Group head Yevgeny Prigozhin was downed during a flight between Moscow and St. Petersburg killing all aboard—a downed flight that also killed former top Russian intelligence officer Dmitry Utkin, who was the Wagner Group military commander, as Prigozhin was this private military company's public spokesman only—American military analysts were quick to note: "If both, Prigozhin and Utkin, are dead then we can call this a clear decapitation strike of Wagner" and observe: "The whole Prigozhin living out his golden years in Belarus thing is like telling a little kid his old dog is going to a beautiful farm when really they are going on a one way trip to the vet"—and last month at the annual Aspen Security Conference, it saw CIA Director William Burns predicting about Prigozhin's failed mutiny: "Putin is someone who generally thinks that revenge is a dish best served cold...In my experience, Putin is the ultimate apostle of payback so I would be surprised if Prigozhin escapes further retribution for this".        

While the smoldering ruins of the Wagner Group plane were still being sifted through for bodies, President Donald Trump released a video interview he gave to America's most trusted newsman Tucker Carlson—an interview whose release was timed to compete with the Republican Party presidential candidate debate hosted by Fox News, that ousted Carlson because he kept telling the truth—a Trump-Carlson interview that got 33 million views in its first 20 minutes, and three hours later had been viewed by a beyond staggering 90 million Americans—was an interview that saw Carlson asking President Trump: "So what's next?...After try to put you in prison for the rest of your life?...That's not working...So don't they have to kill you now?"—but whose truest answer to this question President Trump already gave in his best selling 2004 book "How To Get Rich", wherein he advisedly warned: "When someone hurts you, just go after them as viciously and violently as you can".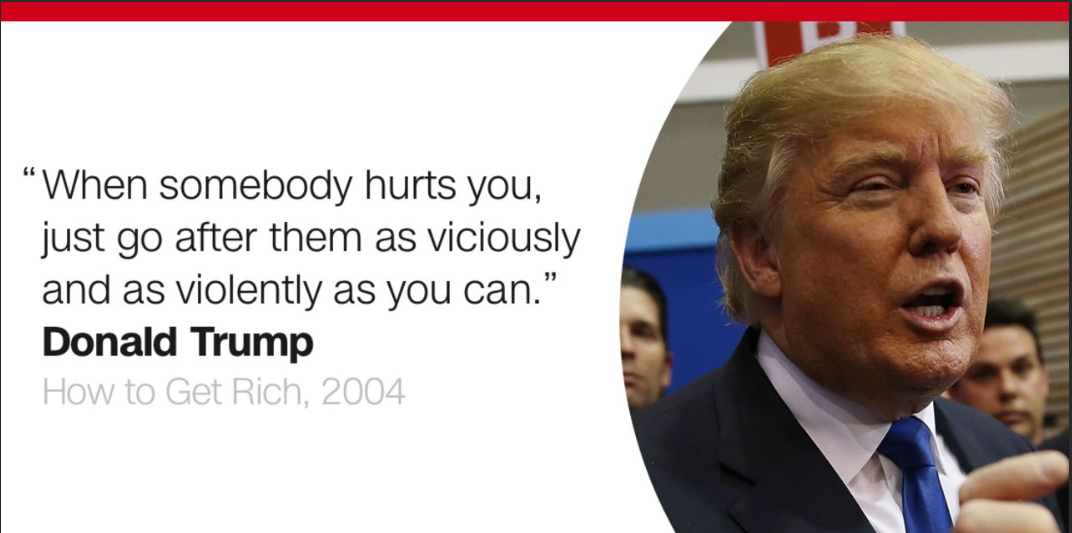 Putting into practice President Trump's warning advice: "When someone hurts you, just go after them as viciously and violently as you can", yesterday's debate saw Vivek Ramaswamy skewering any candidate attacking President Trump, most particularly Chris Christie, whom the Fox News moderators had to stop the debate to tell the audience to quit booing Christie—after which Fox News reported: "Businessman Vivek Ramaswamy had substantial momentum coming into the GOP debate in Milwaukee…In just two hours, he blew that advantage, and – most probably – any chance he might have had of securing the nomination…He appeared smart-alecky and disrespectful of his fellow contestants; he interrupted constantly and displayed none of the sobriety and substance so needed by a 38-year-old eager to convince voters he belongs in the Oval Office".
What you should notice most about what Fox News reported about Vivek Ramaswamy is that it's a lie, and is proven by the fact that "Vivek" is the most trended topic on American social media since he left the debate stage littered with the political corpses of Republican presidential wannabes—the leftist Washington Post also acknowledged that President Trump won the debate without even being there—and the leftist New York Times noted: "One thing was clear when former President Donald J. Trump decided to skip the first debate of the 2024 Republican primary race: There would be a vacuum to fill....But it was not Mr. Trump's chief rival in the polls, Gov. Ron DeSantis of Florida, who emerged at the epicenter of the first Trump-free showdown on Wednesday, but instead the political newcomer Vivek Ramaswamy, whose unlikely rise has revealed the remarkable degree to which the former president has remade the party".
With "Apostle Of Pay Back" leaders President Putin and President Trump standing unvanquished astride the world today, they pose an existential threat to cowering in fear demonic socialists forces, who will stop at absolutely nothing to destroy both of them, and you will be their collateral damage because you're right in the middle of the greatest war between good and evil in our lifetime.  
For over twenty years, the Dear Sisters have warned you this war was coming in order to keep it from landing on your doorstep, but each of you can plainly see how fast it's destroying everything you hold dear and love, which means if you don't start defending yourself now, when are you?    
As in all wars, your main defense is the truth, which our enemies seek to destroy, but you are being called on to defend—a defense that demands you support the Dear Sisters by giving what you can today, or others like them—but for those of you not supporting those who are fighting behind and on the front lines of this war for your freedom, I'll leave you to reflect on the words spoken by American Founding Father Samuel Adams to your ancestors: "If you love wealth more than liberty, the tranquility of servitude better than the animating contest of freedom, depart from us in peace…We ask not your counsel nor your arms…Crouch down and lick the hand that feeds you…May your chains rest lightly upon you and may posterity forget that you were our countrymen".   
Thank you for listening and aiding us in our hour of desperate need by going below and giving what you can, and as always, please feel free to write me at [email protected] with any comments/questions/suggestions, remembering to put ATTN: BRIAN in the subject line, or if requesting to be placed on the Sisters mailing list, put MAILING LIST in the subject line. 
All the best folks,
Brian
Webmaster
Paris
Fr.