World's Largest English Language News Service with Over 500 Articles Updated Daily
"The News You Need Today…For The World You'll Live In Tomorrow." 
Note: This is an urgent private letter intended for the sole and exclusive use of the patron/donors to the Sisters of Sorcha Faal.
25 November 2022
"There Was A Time When You Cared About The Truth. That Is Long Gone."
Hello Folks,
Near immediately after the American midterm elections concluded over a fortnight ago, though as expected all of the votes have yet to "tabulated-manipulated" in States ruled over by socialist Democrats and anti-Trump forces, the world's financial markets were roiled by what experts are calling an "earthquake in cryptoland", the facts of which are documented in articles like "BREAKING EXCLUSIVE: Tens of Billions Of US Dollars Were Transferred To Ukraine And Then Using FTX Crypto Currency The Funds Were Laundered Back To Democrats In US". 
This "earthquake in cryptoland" that stole billions-of-dollars from millions of investors is blamed on a young idiot moron named Sam Bankman-Fried, but in truth the FTX money laundering scheme was created and bankrolled by his secretive and very powerful radical socialist Democrat Party activist parents Stanford University law professors Joseph Bankman and Barbara Fried—and whose mother Professor Barbara Fried proclaimed: "The philosophy of personal responsibility has ruined criminal justice and economic policy…It's time to move past blame".
Most certainly not taking any "personal responsibility" for the "earthquake in cryptoland" criminal money laundering scheme is the entire leftist American media establishment, whose loyalty to Sam Bankman-Fried was paid for by some of the millions stolen from FTX—and were stolen money payments also made to the leftist media conglomerate Vox Media. 
On 30 November, leftist New York Times financial columnist Andrew Ross-Sorkin will host a forum, whose speakers will include Ukrainian President Vladimir Zelensky, US Treasury Secretary Janet Yellen and Sam Bankman-Fried, about which the highly-respected global economic site Zerohedge noted: "It's not just us: with much of the entire world demanding to know how this corpulent 30-year-old still has not been thrown in prison, or at least charged with a variety of crimes, the New York Times just confirmed to the entire world what a farce the one-time paper of record has become, and how it is willing to whore itself out for clicks - not to mention prominent Democrat donors - because moments after Sam Bankman-Fried tweeted that he will be speaking with Andrew Ross-Sorkin at the moderated New York Times "summit" on Nov 30...Sorkin quickly confirmed as much".
At near the exact same time the leftist New York Times confirmed FTX money launderer Sam Bankman-Fried will speak at this forum, new Twitter owner Elon Musk announced that "amnesty is coming" for some suspended Twitter accounts, then he revealed details will be released about the censoring of Hunter Biden's laptop right before the 2020 presidential election, saying: "This is necessary to restore public trust"—a bombshell revelation causing top Vox Media leftist journalist Kara Swisher posting a lying claim that FTX owned shares of Twitter, that was instantly regurgitated as truth by other leftist media outlets—a lying claim Elon Musk instantly proved was false by releasing Twitter financial documents, and he posted directly to FTX leftist media shill Swisher: "There was a time when you cared about the truth…That is long gone".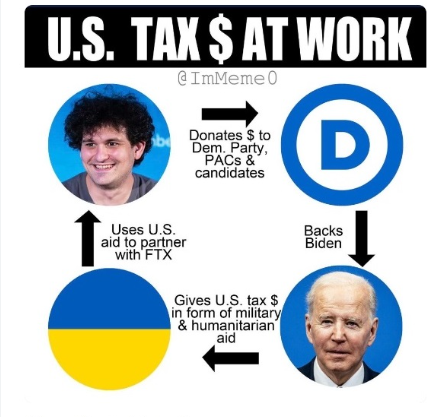 Over the past few weeks, lying leftist American journalists like Kara Swisher have been flocking to the radical socialist message service Mastodon, which caused FiveThirtyEight founder Nate Silver to note, "Mastodon seems like a honeytrap for hall-monitor personality types…Honestly if Elon gets all the hall monitors to migrate to Mastodon that might be his greatest contribution toward the betterment of humanity".
Also for the supposed "betterment of humanity", this past week the United Nations held its Sharm El-Sheikh Climate Change Conference (COP27) in Egypt, after which Sky News Australia did a report about the "massive misinformation" people have been indoctrinated to believe about the world's climate—but for the true hidden agenda spoken about behind closed doors at the COP27 climate change conference, it can be glimpsed in articles like "'A Twisted Joke': UN's Flagship Climate Summit Sees Sharp Jump In Fossil Fuel Industry Delegates", "UN Climate Change Meeting 'Looks Like a Fossil Fuel Industry Trade Show,' Activists Say" and  "Oil And Gas Firms Planning 'Frightening' Fossil Fuels Growth, Report Finds".
While the COP27 climate change conference was in session last week, the world's premier center of higher learning Massachusetts Institute of Technology (MIT) released its scientific document "Earth Can Regulate Its Own Temperature Over Millennia, New Study Finds", wherein after decades of research its scientists revealed: "A study by MIT researchers confirms that the planet harbors a "stabilizing feedback" mechanism that acts over hundreds of thousands of years to pull the climate back from the brink, keeping global temperatures within a steady, habitable range"—and within it saw MIT doctoral candidate Constantin Arnscheidt of their Department of Earth, Atmospheric and Planetary Sciences (EAPS) noting about their findings: "This whole study is only possible because there have been great advances in improving the resolution of these deep-sea temperature records...Now we have data going back 66 million years, with data points at most thousands of years apart".
Why this just released MIT scientific document is critical to notice by all humanity stretches back in history to 20 January 1969, which was when Republican Party leader President Richard Nixon was sworn into office—due to growing alarms sounded within the global scientific community about the climate, on 2 December 1970, it saw President Nixon signing an emergency executive order to create the United States Environmental Protection Agency (EPA)—in its first official act, the EPA directed Brown University to convene a meeting of the world's top climate scientists—on 3 December 1972, it saw Brown University scientists issuing an urgent letter to President Nixon, wherein they warned: "The main conclusion of the meeting was that a global deterioration of climate, by order of magnitude larger than any hitherto experienced by civilized mankind, is a very real possibility and indeed may be due very soon…The cooling has natural cause and falls within the rank of processes which produced the last ice age…This is a surprising result based largely on recent studies of deep sea sediments"—and are the exact same "deep sea sediments" just referenced last week by MIT's examination of "deep-sea temperature records".
Brown University scientists in their urgent letter also advised President Nixon: "It might also be useful for Administration to take into account that the Soviet Union, with large scientific teams monitoring the climate change in Artic and Siberia, may already by considering aspects in its international moves"—advice never heeded by the Americans, but in a Russian Federation long knowing that the world is approaching a mini ice age, explains why it is the only country in the world that builds and operates nuclear-powered icebreakers, and is massively building floating nuclear power stations.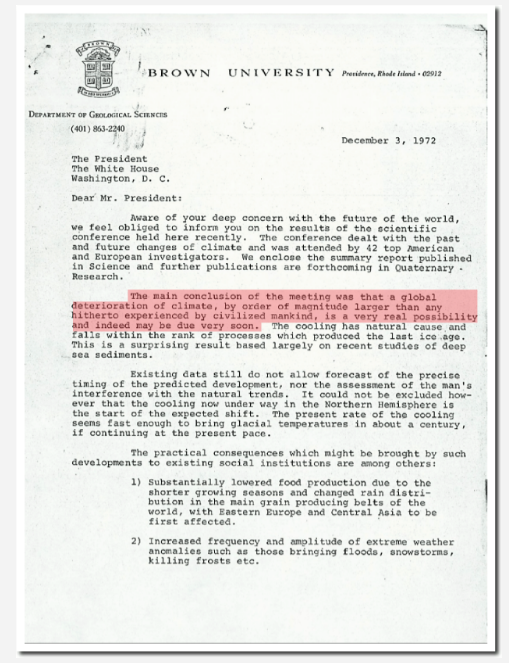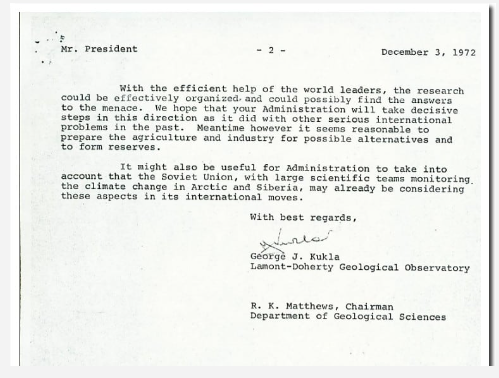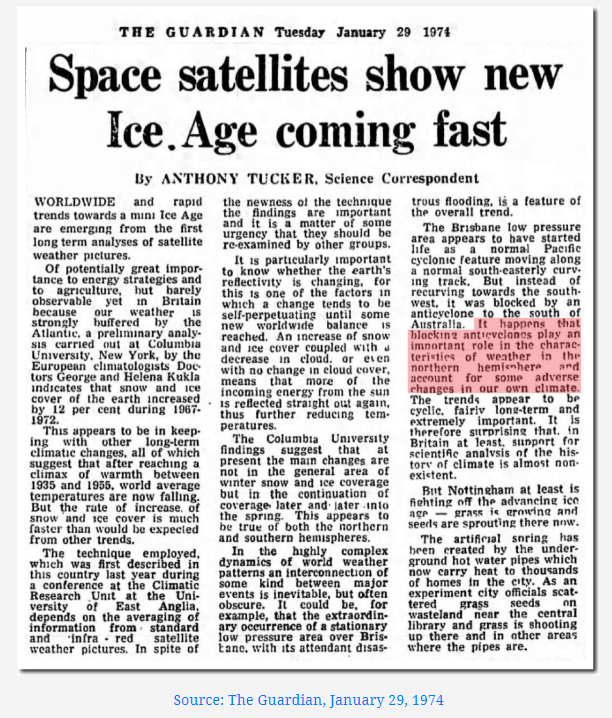 On this day in history, 25 November 1963, President John F. Kennedy was buried in Arlington National Cemetery after he was publically executed, and whose solemn remembrance of this tragic event that changed the course of American history was greeted this past week with repugnant articles like "Meta Confirms US Military-Linked Propaganda Campaign", "Call Of Duty Is Not A Neutral First-Person Shooter, But a Carefully Constructed Piece Of Military Propaganda, Designed To Advance The Interests Of The U.S. National Security State" and "US State Department Funded Video Game To 'Inoculate' Kids Against Fake News". 
Also on this solemn day of remembrance, it's worth noting the article "There's A Conspiracy Theory That The CIA Invented The Term 'Conspiracy Theory' – Here's Why", specifically because it truthfully reveals:
From at least the 17th century to the 1950s, conspiracy theories were a widely accepted way of understanding the world and often the official versions of events.
They were articulated by elites and usually targeted external enemies or subversives who were allegedly trying to undermine the state.
It was only during the late 1950s and early 1960s that conspiracy theories started to become a stigmatized way of explaining big events.
One side-effect of this move from the mainstream to the margins of society was that conspiracy theories started to primarily target societal and political elites.
They are no longer concerned with alleged plots against the state but with those orchestrated by the state.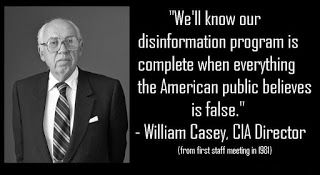 In the weeks just prior to the American midterm elections the leftist New York Times reported: "Voters overwhelmingly believe American democracy is under threat, but seem remarkably apathetic about that danger, with few calling it the nation's most pressing problem", then it was revealed: "A New York Times-Siena College poll found 59 percent of voters view the media as a "major threat to democracy" while 25 percent said the press is a "minor threat" and only 15 percent said it poses no threat"—and for those of you attempting to wrap your mind around these contradictions, I'd advise you to read the explanatory article "It Isn't Cognitive Dissonance; It's Doublethink", whose ending sentence asks: "Has the person who believes two contradictory statements at the same time in some way transcended reason, and entered into a religious dimension?...Or has he simply lost his mind?"
When Elon Musk stated to the leftist journalists telling lies: "There was a time when you cared about the truth…That is long gone", I immediately thought of how many of you still care about the truth or have simply lost your minds—and is valid for me to ponder because I see how many of you come to the Dear Sisters seeking the truth they work tirelessly to provide you with, but then turn your backs to them when they plead for you help to keep doing so. 
In my ponderings, though, my long life experiences have proven to me that the overwhelming majority of you are really good, kind and generous people, but who do turn their backs on others when they are afraid and confused, and is almost always caused by them forgetting that truth will always out in the end and carries in it its own defense—and is exactly what happened nearly 2,000-years-ago when a young Christian named Timothy because afraid and confused, that caused Apostle Paul to write him a series of letters, where in the second one he said: "Do your best to present yourself to God as one approved, a worker who does not need to be ashamed and who correctly handles the word of truth." (2nd Timothy, Chapter 2, Verse 15)  
Thank you for listening and aiding us in our hour of desperate need by going below and giving what you can, and as always, please feel free to write me at [email protected] with any comments/questions/suggestions, remembering to put ATTN: BRIAN in the subject line, or if requesting to be placed on the Sisters mailing list, put MAILING LIST in the subject line. 
All the best folks,
Brian
Webmaster
Paris
Fr.