World's Largest English Language News Service with Over 500 Articles Updated Daily
"The News You Need Today…For The World You'll Live In Tomorrow." 
Note: This is an urgent private letter intended for the sole and exclusive use of the patron/donors to the Sisters of Sorcha Faal.
24 June 2022
This Moment Is Much Weirder Than You Think
Hello Folks,
Barely a fortnight after the American presidential election in 2020, the Poynter Institute for Media Studies, a non-profit journalism school and research organization that operates the nearly always wrong  PolitiFact so-called fact checking site, exclaimed in frustration: "We're drinking out of a fire hose every night!...Not everyone can absorb this much news".
This came to my mind yesterday when the "news fire hose" was turned on to full force because of the United States Supreme Court ruling to affirm the Second Amendment gun rights of Americans.
The full force of this "news fire hose" near completely drowned out President Joe Biden inadvertently showed off a prepared note card with step-by-step instructions for basic actions during a press briefing, including how to enter the room, where to sit and how long he should speak, and flooded into oblivion the news that Vice President Josep Borrell of the European Commission is frantically trying to resolve the Lithuanian blockade of Kaliningrad before Russia storms in and ignites World War III with NATO.
For those of us knowing history, the most terrifying droplet that came out of this "news fire hose" was yet another confirmation of Biden's mental incompetence—a fact quickly noticed by senior Fox News historian and political analyst Brit Hume, who immediately Tweeted out a picture of Biden holding his instruction card captioned with the words "Good grief".
As all historians know, which is why what Biden displayed yesterday is so terrifying, wars are started by leaders planning their actions based on their opponents perceived and/or suspected mind sets—like during World War II when Soviet leader Stalin catastrophically miscalculated the mind set of Nazi German leader Adolf Hitler—saw British Prime Minister Neville Chamberlin, likewise, catastrophically miscalculating the mindset of Hitler—saw President Franklin Roosevelt catastrophically miscalculating the mind set Japanese Emperor Hirohito—then it saw both Emperor Hirohito and Hitler catastrophically miscalculating the mind set of President Roosevelt—all of whose catastrophic miscalculations resulted in the deaths of an estimated 40,000,000 to 50,000,000 people.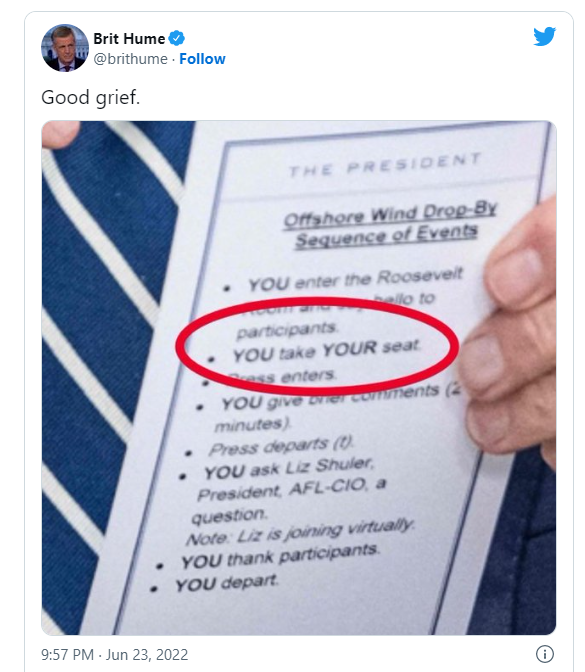 In the United States, the "news fire hose" is powerfully directed by Fox News, about whom it's reported this week: "Fox News Channel crushed cable news competition last week as CNN had its smallest audience in years in several crucial categories...Fox News averaged 1.4 million total viewers from June 13-19 while no other basic cable network surpassed the one-million benchmark…MSNBC finished second, averaging 882,000 viewers, and HGTV finished third with 512,000...During the primetime hours of 8-11 p.m., Fox News topped all of basic cable with 2.2 million average viewers compared to 1.4 million for No. 2 MSNBC…CNN struggled in both categories, averaging only 432,000 total viewers and only 504,000 during primetime".
As to how much CNN is struggling, Sky News Australia just reported: "On Saturday, a mere 57,000 individuals in the 25 to 54 age group watched CNN...On average, only 67,000 people in the coveted 25 to 54 demographic watched CNN over the weekend, which is the worst ratings on record since 1993".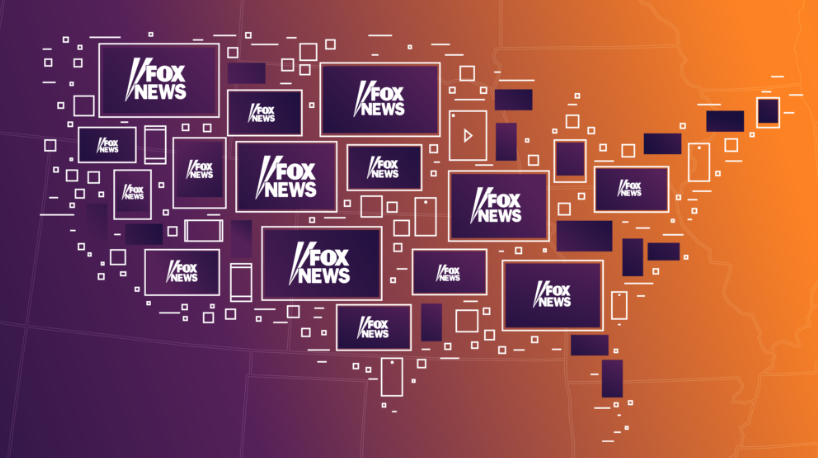 Why it's important to notice the "news fire hose" landscape in the United States was explained this week by New York Times opinion columnist Ezra Klein, who, in his article "This Is A Weirder Moment Than You Think", states:
"As of a few years ago, two events stood out to me as signals of our political system's granite stability.
First, President Richard Nixon's resignation over Watergate, which came in a bid to avoid impeachment and conviction once he realized that many in his own party would join with Democrats to vote for his removal. Second, the 2000 election, when Al Gore conceded despite genuine confusion and uncertainty over the results.  Both revealed a political culture in which, at key moments, members of both parties put the stability of the system first.
Neither event would play out similarly today. Nixon would survive, backed by Fox News and a more radicalized Republican Party.  A 2000-like scenario would cause chaos in the streets, and the Supreme Court wouldn't have anything like the credibility it spent to intervene in Bush v. Gore.
The conditions that helped us meet past challenges no longer hold."
I, along with many other historians, have long disputed Klein's assertion of the American "political system's granite stability", but agree with his assertion that in the present media environment the resignation of President Nixon wouldn't happen, nor would Al Gore go quietly into the night after the Supreme Court ordered votes to stop being counted.
Most notably agreeing with this assertion is Wired Magazine founder Kevin Kelly, whose recent essay "How To Future" begins with the words: "A good futurist focuses on the 3 time phases: past, present, future...The best futurists I know are really keen historians and study the past to see the future...They look carefully at the past because most of what will happen tomorrow is already happening today...In addition, most of the things in the future will be things that don't change, so they are already here"—is important to notice because Klein cites Kelly, and ends his article with the statement: "I should admit that, in much of this, I have betrayed another of Kelly's futurist dictums..."Trying to see beyond the immediate cycles of news is a challenge," he writes...But then, I am not a futurist; I'm a journalist...Of all the stories that have led the news in recent months, to take any one of them seriously — to believe that the direction they point is the direction we will go — is to believe we stand on the cusp of a future far different from our past...In this, George Orwell had it right: "To see what is in front of one's nose needs a constant struggle".
The "constant struggle" to deal with the "news fire hose" in order to see what's "already happening today", then "look carefully at the past" to see "what will happen tomorrow", is what the Dear Sisters do for you every day—is a mission standing opposed to the mainstream corporate media establishment that floods your mind with fake news and infantile analysis—but whose mission is doomed to fail unless more of you awaken to the truth and support them, as well as the dwindling few others still telling you true things.      
You can, of course, turn away from us, but before you do, think long and hard about if you really want a world where only fake news and war propaganda exists. 
Thank you for listening and aiding us in our hour of desperate need by going below and giving what you can, and as always, please feel free to write me at [email protected] with any comments/questions/suggestions, remembering to put ATTN: BRIAN in the subject line, or if requesting to be placed on the Sisters mailing list, put MAILING LIST in the subject line. 
All the best folks,
Brian
Webmaster
Paris
Fr.